Visual Fine Arts
Art is a great way for children to learn and be creative.  Children will be given opportunity to create art pieces, exploring with different sensory materials and using fine motor skills.  Children are able to express creativity while learning, following instructions, and listening. Visual fine arts are a great means for fine motor skills and gives children a sense of pride to see their artwork displayed.  It is important to focus on the process of creating the art piece, as opposed to the final product of the art piece. Process Art is all about the experience children have while creating and the opportunity for them to explore, discover, be creative and have fun.  Let the children express their inner Da Vinci!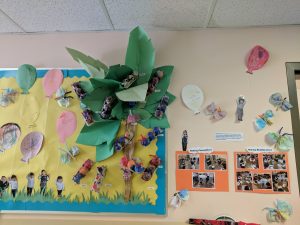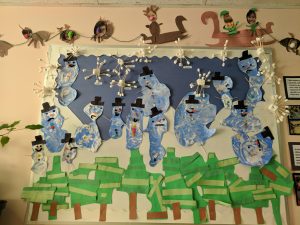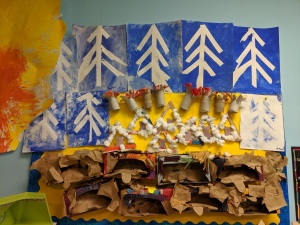 Table Time
Children will be given opportunity to work with an array of Montessori and table materials. Montessori materials, puzzles, blocks,  writing, fine motor work and projects will promote independence, fine motor and cognitive learning.     Montessori work is a great way for children to learn math, alphabets, and to learn independence.  This is also a time for children to explore individually and learn things on their own time.  Table time provides focus time for children and the teacher can design the work to cater to each child's individuality.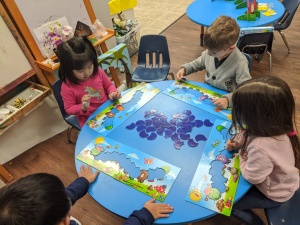 Movement Time
Children are given the opportunity to express themselves through movement and creativity! Through music, yoga and fun songs designed for children to interact socially, gain confidence and have fun while learning, we use songs from Marnie, Steve and Greg, Wee Sing and other great classroom movement curriculums. We will also be using different materials, such as tunnels, scarfs, beanbags, parachutes and more to allow children to use their large motor skills. This is great for children socially to interact and monitor other children.  Through song and movement, children will learn while having fun.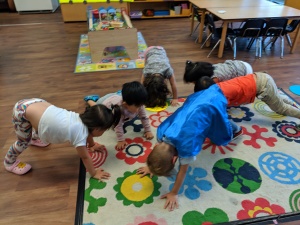 Yoga Time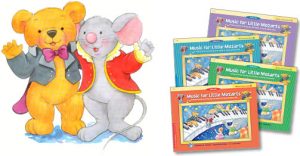 Music Time
Music time will consist of using musical instruments and also following the Music for Mini Music Curriculum.   Music is a great way for children to learn language! Most importantly, it is fun! The MUSIC FOR LITTLE MOZARTS is a program designed by professionals to teach children music theory.  With the use of puppets such as Mozart Mouse, Beethoven Bear, Clara Schumann Cat and more, children learn music theory and songs through movement, songs and stories.  Music time can also be a time for children to learn songs and play with instruments.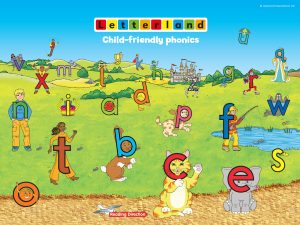 Fun Phonics
Literacy is an important part of a child's educational growth.  The Letterland Phonics program is a great program to introduce children to phonics. The Letterland phonics program is a successful program created in the UK which uses song, colorful and purposeful characters, and story to teach children the phonic sounds of the alphabet, which is the first step of learning to read. The characters who live in Letterland and children enter this land and meet characters such as Annie Apple, Clever Cat and Talking Tess. These characters enables children to recognize sounds and learn to recognize and write letters in a fun way.   Through story, music and movement, children become familiar with alphabet sounds.   During fun phonics time, children can learn through other means as well, such as phonics games, different writing and phonics centers, songs and stories.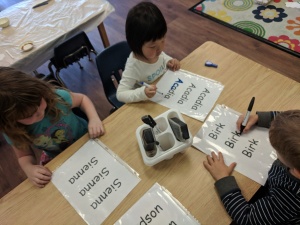 Concept Circle Time
During Concept Circle, children are given a sense of routine and belonging every morning with a morning greeting, going through calendar songs and talking about the weather. Teachers are given the opportunity to talk and teach children through emergent curriculum. The topics could be anything the children are interested in, things like science, math and could be taught through music, story, dance and speech.   The great thing about emergent curriculum the philosophy of  creating a curriculum based around the interests of the children, thus ensuring their success and a giving them a meaningful learning experience.  Circle Time is a great way for social bonding and connections between children and teachers.